Sonia Rykiel's signature is freedom, audacity and self-confidence!
Sonia Rykiel
One Nation Paris Outlet
Founded in 1968 by Sonia Rykiel, the eponymous brand is an emblematic French fashion house that has played an essential role in the constitution of French cultural heritage.
A strong identity that has remained true to its DNA.
With a strong sense of commitment, universal and timeless, the brand is a great source of inspiration for the fashion industry. She is a universe, a state of mind and a way of life. With her fiery hair and her independence, Sonia Rykiel, known for her knitwear, celebrates the liberation of women by emphasizing their silhouettes through close-fitting styles.
Her fitted wardrobe and stripes earned her the title of "Queen of Knitwear" by Women's Wear Daily.
As soon as the first store opened on the Left Bank, Parisian women and women from all over the world wanted to be part of its sensual and intellectual universe. A world where style is above all a way of being from day to day. Where a woman is as seductive in a "Poor Boy Sweater" and pants as she is in velvet, sparkles and sequins.
Sonia Rykiel has a well-defined look and sense of style. Knits that fit the body, distinctive stripes. Comfortable and elegant clothes at the same time. "Demode" according to Mrs. Rykiel, means wearing comfortable clothes that make the person feel good.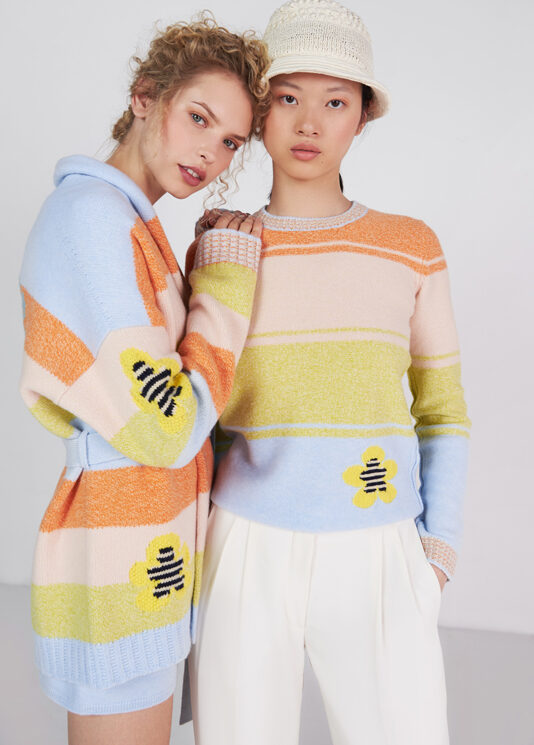 Don't fit your body to fit the garment, make the garment fit your female form.
In attitude as in clothing, the women in Rykiel stand out of the crowd, sporting their own sense of style. Fully at ease in their bodies and clothes, a true ode to the female form. Behind it all, the spirit of a free, confident woman. A daring go-getter ready to shake up the established order. Sonia Rykiel glides through the decades in a resolutely modern and avant-garde style.
Offering ready-to-wear clothing, bags, accessories and children's clothing, the internationally renowned House continues to embody a certain idea of the emancipated woman and an anti-conformist approach to fashion.
Practical information
Sonia Rykiel
Sonia Rykiel Outlet offers One Nation Paris its collections marked down all year-round with reductions of between -30% to -70% off regular retail prices depending on the time of year (see conditions in store).