Desigual Outlet
One Nation Paris Outlet
Desigual's upcoming Autumn-Winter collection will arrive full of energy. An energy that is more adapted than ever to the current climate. And to the heat of our emotions too.
Summer proposals filled with light alongside garments in white tones or incredible colours. A transitional autumn with earth tones, combinations of black, contrasting colours and fabrics that invite us to wrap up. In winter, the collection embraces its punk side with deeper and darker colours punctuated by vibrant details.
Indonesia, Japan, Tibet, Hawaii, Turkey… we open our doors to extraordinary places that allow us to see the world in myriad colours. This is the way we have enjoyed discovering the planet for over 30 years. Creative energy. Ethnic prints. A mixture of many cultures.
We delved deep into our archives to rediscover 1984 and Desigual's complete DNA. We have filled the collection with positive messages and renewed the codes that make us unique. Peace symbols inside hearts. Robots. It´s a Desigual Revolution. Libertè, Fraternitè, Desigualitè. I want more Love… Our special essence is translated into vibrant garments that spread positive energy.
Street art and grunge are also bringing their groundbreaking strength to the mix. Uniquely urban and contemporary garments that take us back to other times and places. Denim jackets, coats and knitwear are highlights.
Black takes centre stage in a wide variety of garments, radiating energy and strength. But this is no ordinary black. It's Desigual black, with plenty of surprising details, intricate fabrics and qualities that are more special than ever. And the same goes for vibrant colours: red, blue, yellow, green… Garments designed for dressing head to toe in monochrome or combining with prints.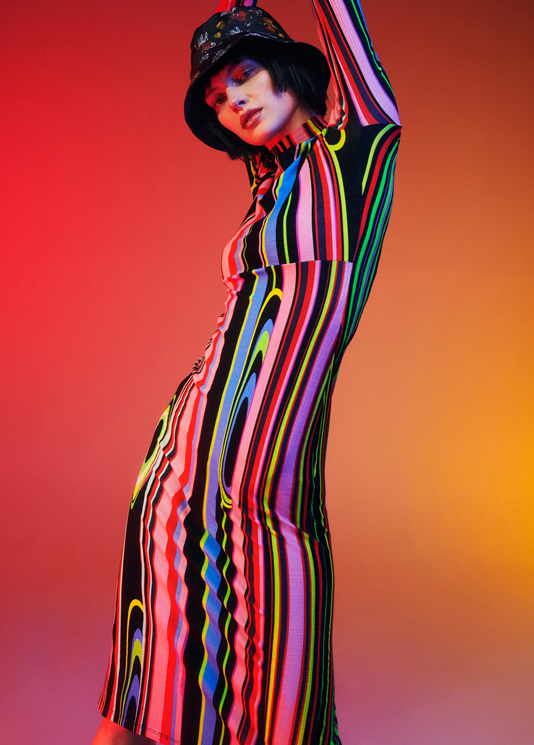 Practical information
Désigual Outlet
Désigual Outlet offers One Nation Paris its collections marked down all year-round with reductions of between -30% to -70% off regular retail prices depending on the time of year (see conditions in store).
Find Désigual Outlet on the ground floor
Contact the store at : +33 (0)1 30 43 88 26